July has seemingly become a non-stop trip of glorious global dancing around the scilon rabbit hole for Anonymous protesters taking a stand against the destructive cult of organized scientology. It's rather fascinating to watch from afar considering the numbers attending the global monthly protests are down, yet with the number of events and venues growing in leaps and bounds we're actually greatly expanding both the reach of our message and the amount of public support openly embracing it.
The following local and regional events all took place this weekend, primarily on Saturday, July 26, and with much success. Each of these phenomenal raids are of their own special significance and really do deserve their own separate post. However, all these bigger-than-usual efforts going on addition to the usual hot spot flash raids in places such as LA, NYC, Saint Hill and even Narconon Georgia made for alot of stuff to report on in a single day. Hopefully these short summaries will fill the void till other sites and media outlets start picking up some moar media coverage slack.
Marcab Invasion of San Diego Comic-con 2008
San Diego is home to one of the largest gatherings in the United States, known as San Diego Comic-Con. Patrons come from all over the globe to attend this four day event, and it typically boasts attendance of more than one hundred thousand people, with expected attendance in 2008 of 125,000 people or more.
Operation Marcab Invasion was Anonymous' plan to reach as many people as possible by exploiting this ingenius local venue. Regular raid activities were happening outside with the usual spreading of fliers and cards while a few anons in masks roamed around inside the convention. One moment of truly precious irony was that V masks were being sold a mere 2 booths down from the Galaxy Press booth that was promoting the scilon pulp fiction trash. Such an epic win was had in so many ways it's hard to summarize. But not to be overlooked is that plans are well underway for launching our own anon comic book to commemorate this grand occasion!
Here are a few of the highlights from this local event, plus check out the kindred references listed at the end of this post for related discussion threads.
XenuBarb Interview on StreetFreaks.tv
Operation Anonville, Sydney Australia
Anonville Sydney was a major win, great atmosphere and lots of enturbulation was had for this national gathering of aussie anon. In the days before the raid, a new chief of police tried to restrict our efforts severely based on the usual false accusations made by scientology in regards to our ongoing efforts ever being anything but peaceful protests.
Fortunately, after some negotiation things were sorted out. The truth prevailed such that the new chief of police eventually seen the light and it all went smoothly. In fact, the overall police presence was fairly light. Therefore, a special shout out of thanks goes to the crime syndicate representatives in Sydney who did us such a fantastic favor by showing the police chief their true colors! Once again, scilons do our offensive work for us by setting such a fine example for future reference that their accusations are not to be taken seriously, unless of course your looking for lulz.
Anons from various cities joined together with Sydfags and visited both the Castlereagh St org and the Glebe org. They had two epic PAs plus boomboxes, caek, thousands of fliers handed out and apparently even got a thumbs up from a Scilon looking out through the window of the org. The Scilons were up to their usual black PR fliering as shown in the following video clips. There was also a few trouble spots with non-scilons, but nothing that wasn't handled such that no significant interuption of the raid derailed their well laid plans. Additional highlights are included below with links to related discussion threads & media coverage is indexed at the end of this post.
Enturbulating at Pitt St
Anonville Sydney Australia- Clam caught out
For additional photos on Flickr see Anonville: July 26 set and sydanon's photostream.
Epic Midwest Regional Raid in Chicago, USA
Amerifags gathered in chi-town from at least six different states for extending the summer of lulz festivities in an escapade on Saturday that began in Millenium Park and then continue on downtown. The following excerpt from a raid report on Enturbulation.org sums up the day nicely.
As usual, Millenium Park protesting was win, win, and more win. Flower-giving was win. Acapella Rick Rolls while Segway'd park security facepalmed at the chalk on the walkway was win. (Even Rick Astley couldn't soften his his heart, as he was pretty grumpy about that.) "Why Can't We Be Friends" singing and Minneapolis group shouts were epic. Chicago's very own Epic Photo Guy is always win. Crazy flexible guy entertained the masses, got a ton of people to listen to our message, and contributed to a real party atmosphere.

At one point, this older gentleman with an accent came up to me while I was talking to a woman and said, "I want to help out." I asked him if he wanted to join in and hold a sign or anything like that. Nope, turns out he wanted to donate money to us! So then I explained that, unlike Scientology, we weren't really interested in his money and that the best way he could help out was just to spread the word for us.

Someone from out of town was just insanely good at playing Shout Anon, getting people's attention and handing out the trifolds. I saw him milking the crosswalk's passing group of people every 2 minutes (captive audience, lole), and it was a beautiful thing. Not sure who that was, but take a bow, good sir.

Speaking of the out-of-towners, you guys in general had a TON of energy. Seriously, you guys are hardkore with a K. It was great fun and a great honor to protest alongside you guys. When things were wrapping up at the end, one Anon said something like, "We'll always be with you guys. Not necessarily in the same place, but out -- protesting -- with you." Ain't that the truth?! (Sappy 90's sitcom fake-audience "awww" goes here.)

SAYING HELLO TO THE ORG: After time ran out for us at the park, we thought about what to do next. After a good example of why the interwebz and group train trips should never marry, it was definitely crappletime as we took a visit to the local Sci org. (Walking a few blocks towards the org from the train station, we saw a sign that said "CRAPPLETIME." Just... that, yeah. Random.) The place was deserted as usual, with the windows all papered up, and our pet Chicago Sci-Guy waiting for us outside.
Below are a few of the highlights from this regional event, plus check out the kindred references listed at the end of this post for related discussion threads and major media coverage. Additionally, Chicago Anonymous will be featured on radio airwaves to recap the event on the July 28th broadcast of The ManCow Show.
anonroll
Fox News Chicago - Anonymous Coverage
For more photos see Anonymous Chicago Flickr Pool.
Texas Megaraid in Austin
Operation Austin MegarAIDS was an unofficial regional raid of the Church of Scientology in Austin on Saturday. The idea here was for all of Texas' Anonymous to descend upon Austin for a weekend of fun and enturbulation. Unfortunately, due to being so absorbed in the latest bout of enturb OG drama, one carload of out-of-town anons missed a crucial time-change announcement and showed up to enturbulate in the afternoon hours rather than early evening, but ultimately that just extended the win range into an all-day affair!
The real festivities got started after 5pm, and had about 13-15 demonstrators out in front of the org with Hubbard lecture blaring from an ipod with speakers when anon antics were at their peak. The scilons used their "tech" to block the front doors with a big pot with ballons coming out of it. Apparently, it was costume party night at the org. Some of their signs didn't quite block the sides so the ever diligent protesters put up Xenu.net signs to nicely fill in the gaps of their blockage wherever possible.
Reports indicate that foot traffic was awesome and fliers were handed out to many of the passerbys. But more importantly, many people stopped to ask questions and several enlightening discussions ensued for more than 20 minutes right there on the street!!!
The late night foot traffic got quite interesting as the infectious nature of anon lulz charmed many a character from the public to join in the unfolding spectacles. At one point the texfags pretended to leave and waited in a parking lot near the org for about 5-10 minutes. They snuck back to the org just as the scientology party was letting out. Once the stealth brigade was back out front, they all yelled "JUST KIDDING!!!!"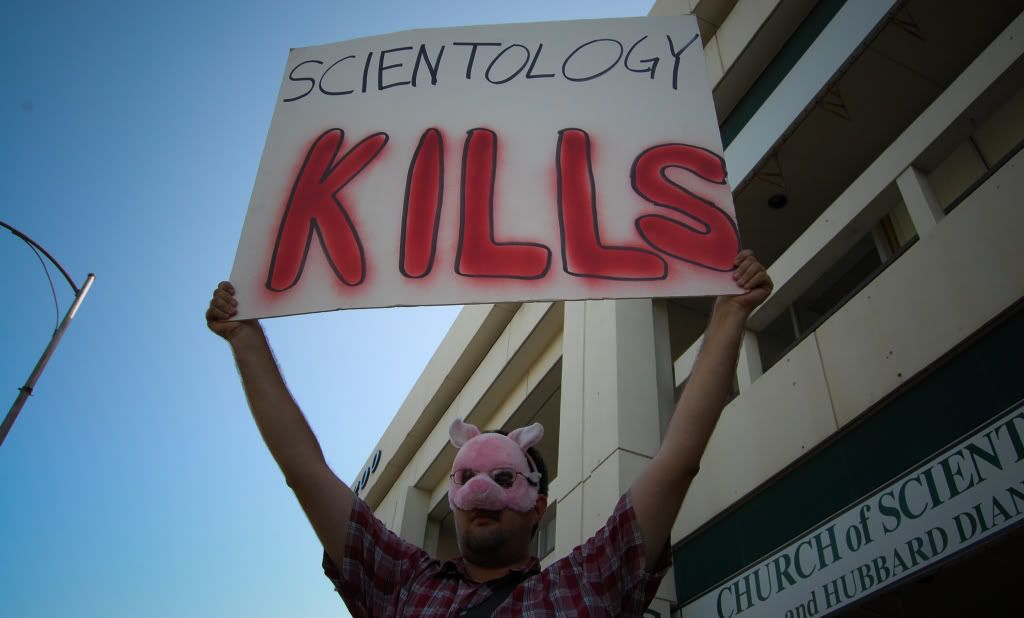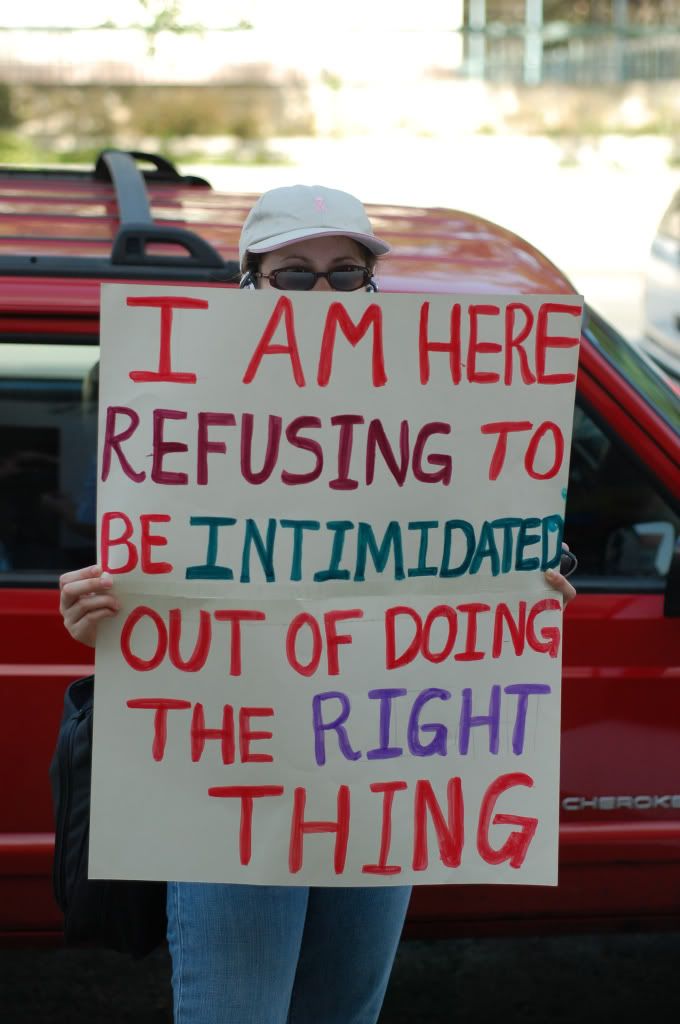 For more megaraid pics see nardkicker megarAIDS saturday photobucket ; nardkicker megarAIDS sunday photobucket
Halifax Gay Pride Parade in Nova Scotia, Canada
A local group of Canadafags originally planned a flash raid of sorts for their local pride parade. They were fully intending just to work the crowd with fliering and customary lulz infection. But when anon discovered that groups of five and under didn't need to acutally register to participate in the parade and could just jump in they all thought "WELL HELLS YEAH" and joined in the fun!
Many people recognized the local protesters and shouted "GO ANONYMOUS!", "SCIENTOLOGY SUCKS!", "TOM CRUISE SUCKS!" and whatnot. They handed out a thousand fliers (most of which were about Scientology's hatred of the LGBTs) and that number wasn't near enough to cover the whole route. From what they heard on the streets, this was the largest turnout at the Halifax Pride EVAR.
A few folks approached the small group anons who participated afterwards, and asked about the next monthly protest and location. So the local cell ultimately scored a double win with fantastic lulz shared with the crowd while securing an increase in their numbers for the next global protest on August 16th.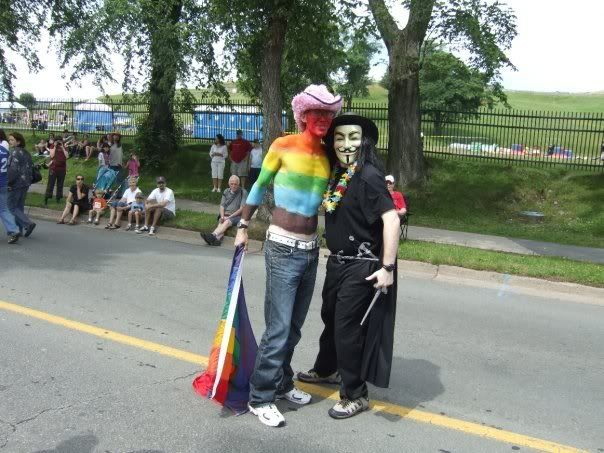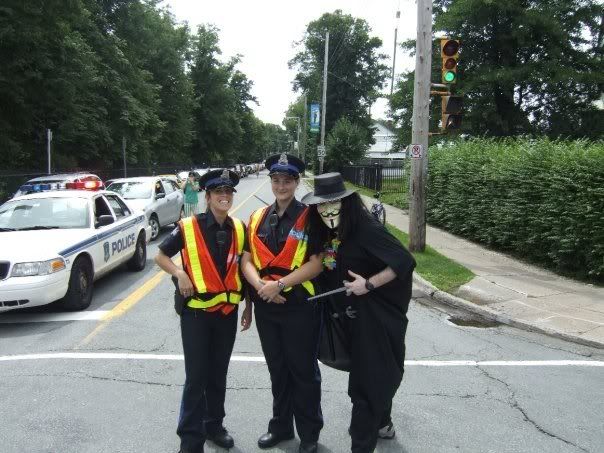 For more photos, check out anonhubbard Halifax Pride 2008 photobucket.
Sinking the Maiden Voyage in Los Vegas
This super seekrit Maiden Voyage Raid turned out so deliciously epic! Local sin-city anons gathered for a day of enturbulating the scilons (of course) and detouring as many people as possible from attending the traveling road show event on Saturday.
Spais watched the local org carefully until the last little scilon locked up and left the building. Then they loaded up the partyvan and headed the happy band of enturbulators over to the "Ideal" org and sure enough, the closely guarded intel received prior proved true there was a crowd beginning to gather! Oh Thank Xenu, and let the Maiden Raidage adventures begin!
The culties were even kind enough to call Metro police AGAIN. But what was truly hilarious, when Metro arrived, the lady cop was smiling and laughing and was so nice and friendly you couldn't help but love the cops! No doubt the $cilons were shitting bricks AND pissing their panties at this unexpected showing of the community embracing the summer of lulz! One officer asked a protester to take off their V-Mask and anon gladly did so as he/she was all too ready for this one.... Anon was also wearing a surgical mask underneath! BWAHAHAHAHAHA! Both officers grinned from ear-to-ear! These wonderful cops just reminded us of the usual spiel and drove off waving to us as they left. Once things wrapped up outside the ideal org, a few Anons hit the Strip to continue passing out fliers!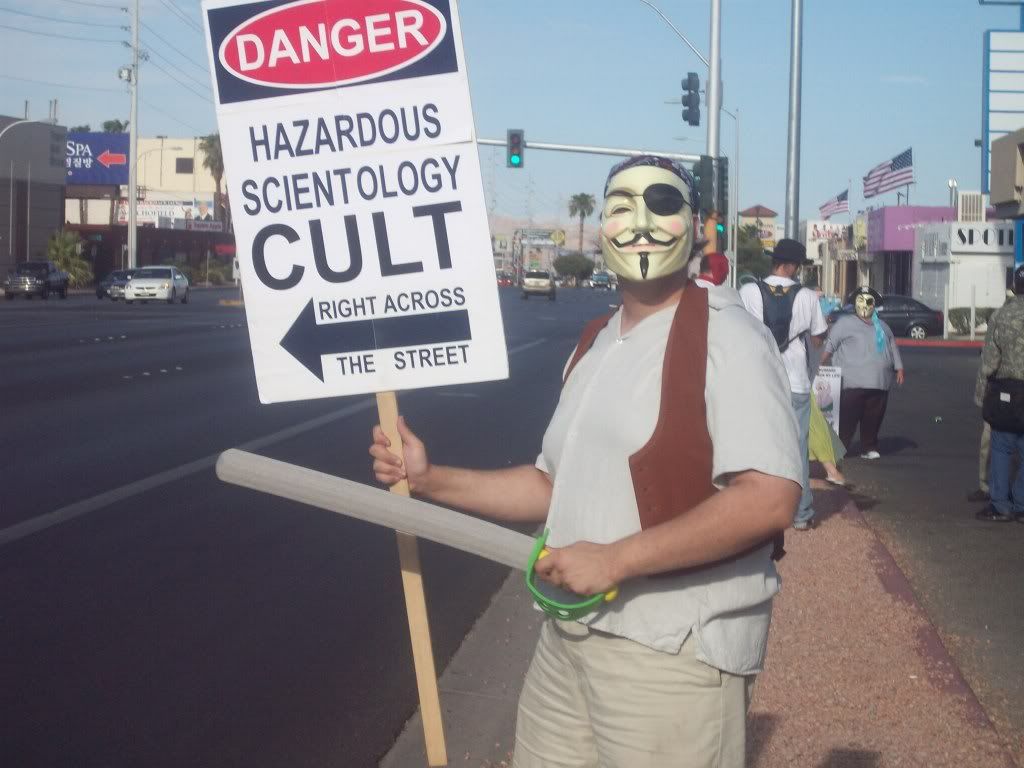 For moar photos, check out cameranonymous Vegas Doubleshot Raid.
KINDRED BACK MATTER